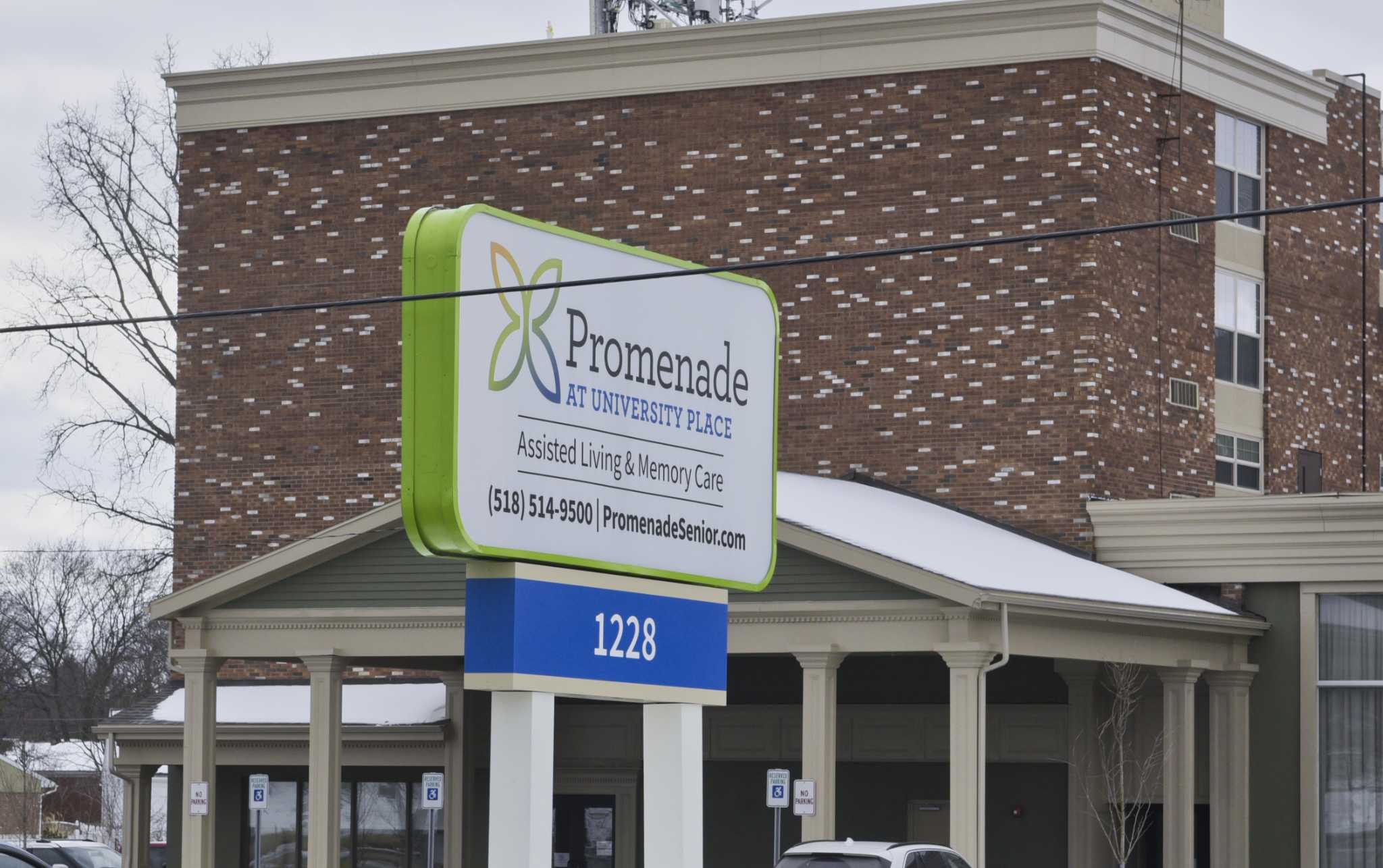 Photo: Paul Buckowski, Albany Times Union
                                                    
GUILDERLAND – One person died and another was sickened after a Legionnaires' disease outbreak and an assisted living facility that was the scene of outbreaks when it was a hotel , officials familiar with the matter said Thursday.
The Albany County Department of Health confirmed Thursday that two people had fallen ill at the Promenade at University Place, formerly a Best Western Sovereign Hotel, at 1228 Western Ave. Officials who spoke on condition of anonymity said one resident died Wednesday.
The cases come seven years after guests contracted Legionnaires' after stays at the hotel, located across from the University at Albany's uptown campus entrance. The hotel was converted into senior housing and opened in late December.
The county learned of the outbreak about a week ago and launched an investigation with the state Department of Health, which oversees the 200-bed assisted living site, into whether the two cases have a common source, county health commissioner. Elizabeth Whalen said.
An initial assessment linked both cases to the Promenade in Guilderland, where samples of water revealed "preliminary positive results for legionella," county officials said. Final results are expected within a week.
"The testing was done the same day we became aware of the second case," Whalen said. "The facility has been responsible. They have been proactive in installing new shower filters and providing bottled water for drinking and assistance with any bathing methods to really make sure they are not putting additional residents at risk. "
Legionnaires' disease is a type of pneumonia caused by bacteria . People are typically exposed to it by breathing in the mist from a shower, hot tub or air conditioning system that is contaminated with the Legionella bacteria. Those who have cancer, compromised immune systems, smoke or have smoked, and / or over 50-years-old are at greater risk. It is not spread person to person.
The assisted living facility notified staff, residents and residents' family of the confirmed cases on Wednesday, Whalen said.
"We've taken immediate action to address the matter and make sure that we stay at the forefront of the safety of our residents, "said facility CFO Paul Belitsis, who would not confirm a death had taken place. "We're openly communicating with them."
The facility, which Belitsis said has 23 residents, is putting water restrictions in place, which the Health Department supports, agency spokeswoman Jill Montag said in an email. The Department of Health said that 19 people contracted the disease from 2010 to 2012 who had stayed at Best Western Six were from other states, 13 were New York state residents .
When initial cases were confirmed, the hotel shut down in early 2012 while water boilers and pipes were replaced.The system was flushed and reopened after samples showed the bacteria was gone.Even four more guests developed the disease after it reopened. There were no more cases linked to the hotel after 2012, but it's unknown what, if any, measures were taken following the additional cases after the hotel reopened.
At least two guests filed lawsuits against the hotel in 2012 seeking unspecified damages at the time after falling ill The status of those cases is unclear.
In 2016, plans to convert the hotel to senior housing were pitched to the Guilderland Planning Board by Promenade Senior Living, a Tuxed o, N.Y.-based business. The business has several senior housing facilities, mostly downstate.
Belitsis said the Guilderland site went through a wide renovation, including installing new water heaters, piping and fixtures.
"We're always concerned about the safety and well- being of our residents, "he said. "Given the steps and measures of the renovations – the extensiveness we have taken – and also consulting with folks, we felt that there was no reason that this issue would resurface."
The Capital Region has dealt with Legionnaires' disease outbreaks before , most recently in the Saratoga Springs area where a 2016 state investigation was expanded to include 18 patients, many of whom had either stayed at or visited the Wesley Health Care Center during the period when they would have contracted the disease.
While nursing home officials identified five sources of water contaminated with Legionella bacteria, state investigators could not find a source of the bacteria outside Wesley. Some of the patients in the investigation were not associated with Wesley.
The source of the contamination can not always be found, health officials said. Legionella are found naturally in the environment, usually in water, but grow best in warm water like hot tubs, cooling towers, hot water tanks and large plumbing systems that are not properly maintained.
In New York, including New York City , between 500 and 1,000 cases of legionellosis are diagnosed annually. It's more commonly identified during the summer and early fall, but can happen any time of the year, state health officials said.
Source link