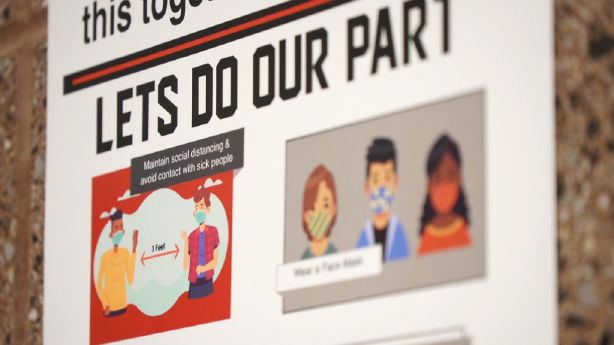 SALT LAKE CITY – The Utah Department of Health announced Saturday that there are 1,340 new confirmed cases of COVID-19 in the state, and that three other Utah residents have died from the disease from the reported numbers on Friday.
The update brings Utah to 93,297 total confirmed coronavirus cases and 540 deaths since the pandemic began.
In an email, the health department said the three Utah dead were:
A Davis County man over the age of 85 who was not hospitalized at the time of death
A woman in Salt Lake County over the age of 85 is a resident of a long-term care facility
A person in Carbon County between the ages of 65 and 84 was hospitalized at the time of death
Carbon County is part of Utah̵
7;s southeastern District of Health, which as a state has lost only three Utahns in COVID-19. However, the province is now reporting more than 275 new cases per 100,000 residents in the past two weeks. There are about 20,000 residents in the province, but the health department measures case rates per 100,000 to normalize state-wide case data.
Carbon County is at a "moderate" level of delivery under the new guidelines issued Tuesday by Governor Gary Herbert and Utah health officials. Utah's most popular provinces, Salt Lake and Utah, are both at "high" delivery levels and are responsible for 582 and 294 new Saturday cases, respectively.
Both have a higher rate of new cases per 100,000, as well. The 14-day Salt Lake County case rate per 100,000 is 630.5, and Utah County is even higher at 709.6.
Currently, 298 Utahans are reported to have been hospitalized due to coronavirus, another record high in the daily reported number. State hospital numbers are higher than in previous days, exhausting capacity at some city care centers.
Of those hospitalized in Utah, 98 were reported to be in intensive care. The state is currently estimated to use 75% of its ICU beds.
The state averaged 1,222 new COVID-19 cases per day and a positive 14 percent trial last week. The health department reports 9,142 more Utah test results on Saturday; 69,110 Utahans are now estimated to have recovered from COVID-19 since the pandemic began.
Procedure:
Test results now include data from PCR tests and antigen tests. Positive COVID-19 results are reported to the health department immediately after confirmation, but negative test results may not be reported within 24 to 72 hours.
The total number of cases reported by the Utah Department of Health per day includes all COVID-19 cases since the outbreak of Utah, including those currently infected, those recovering from the disease, and those who died.
Recovered cases are defined as anyone diagnosed with COVID-19 three or more weeks ago and did not die.
Deaths reported by the state typically occur two to seven days before they are reported, according to the health department. Some deaths can be from a longer back, especially if the person is from Utah but died in another state.
The health department reports both confirmed and possible deaths of COVID-19 cases in each case definition outlined by the State Council and Territorial Epidemiologists. The death toll may change as case investigations are completed.
The data included in this story primarily shows the state of Utah as a whole. For more localized data, visit your local health district website.
More information about Utah health guidelines levels is available at coronavirus.utah.gov/utah-health-guidance-levels.
Information is from the Utah Department of Health and coronavirus.utah.gov/case-count. For more information on how the Department of Health compiles and reports Utah COVID-19 data, visit coronavirus.utah.gov/case-count and scroll down to the "Data Notes" section below of the page.
×
There are many more stories that may interest you
Source link