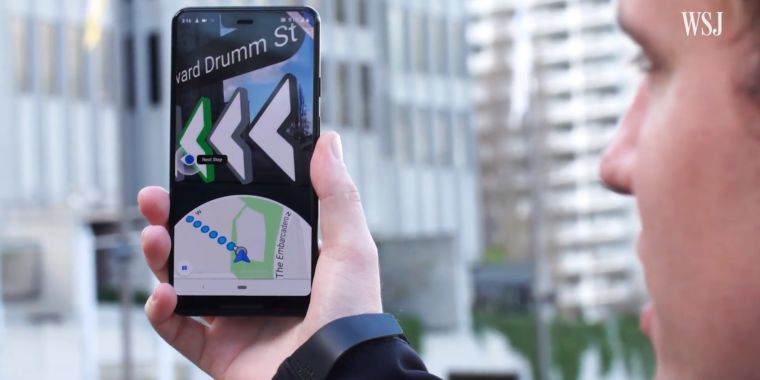 If you recall, in May 2018, Google showed a version of Google Maps' expanded reality during Google I / O 2018 key. This feature is described only as a "what if" experiment and "How [augmented reality] can look at Google Maps" -it is not given firm release date. At the end of the week, The Wall Street Journal got to try out a real working version of this concept, and, while there is still no release date, it sounds like Augmented Reality Google Maps moves from "What if?" To an actual product.
The Journal was given a Google Pixel 3 XL with an "alpha" version of Google Maps to test. As shown in Google I / O, the new feature extends 2D, 3D-powered GPS-and-compass system, reality camera overlay overlays and camera-based positioning system. Basically, you hold your phone, and it shows a camera feed with directions overlaid here.
This feature seems to be aimed at resolving many pain pop-up points when using Google Maps in a big city. The densely packed points-of-interest means that GPS is not accurate enough for getting around, especially when considering that GPS is not functioning properly within the home, or under the ground, or when you are surrounded by tall buildings, and may take a few minutes to reach full accuracy when stepping outside. The Smartphone compasses are also, in general, terrible when you are still standing and need to figure out which direction to start walking.
The new version of Google Maps brings GPS and compass with an accurate orientation determined by the phone's camera. As with how someone identifies themselves, the Google Maps AR camera will look at buildings and landmarks, and from the camera feed, determine exactly where you are and which direction you are facing. Back to Google I / O, it is called "VPS," or "Visual Positioning system."
A project like this will add a lot of power to Google. The over-detailed Google Maps data gives you accurate placement of stores, down to which part of the street an address is located and where the building block is located. Google's computer vision algorithms and cloud computing may take your camera feed and compare it to an extensive street view imagery collection to find out where you are and which direction you are facing. All directions and business information may be overlaid with the camera feed, in 3D, thanks to Google's ARCore tool of truth expanded.
WSJ says that the feature was launched via a new "Start AR" button, and then "second" the camera was able to nail a location with "striking accuracy. "
Google said that the design was not over yet, and the AR version of Google Maps was still tweaked. Again, there is no release date. The main takeaway here is that Google has not forgotten about AR Google Maps and is planning to take it to market eventually. As we have seen in the past, just because something displayed on Google I / O and getting good acceptance does not mean that Google will actually build and release it. The most damn example is the demo of "Removing Google Objects" from Google I / O 201
7. Google showed a baseball photo taken on a chain link fence, then removed by the algorithm the chain link fence on large ridge from the audience. The feature is described as "coming soon," but then show this feature is forgotten about and never mentioned again.
However, Google Maps will appear. While the Journal could not nail a real launch date, it stated that the test starts with Google Maps "Local Guides" (people who leave lots of reviews and work their Google Maps leaderboards). The rest of us need to wait.
Now, Augmented Reality is almost exclusively used for casual games and tech demos, but Google Maps actually presents a basic, useful case use for AR. The transmission of flat, 2D map data in the real world seems to be easier walking distance, and the use of a camera for location can be a real improvement in the janky magnetic compass and poor GPS city performance . And yes, one day, when we're walking around with a version of Google Glass's expanded reality, an app like this will be pretty cool.
Source link