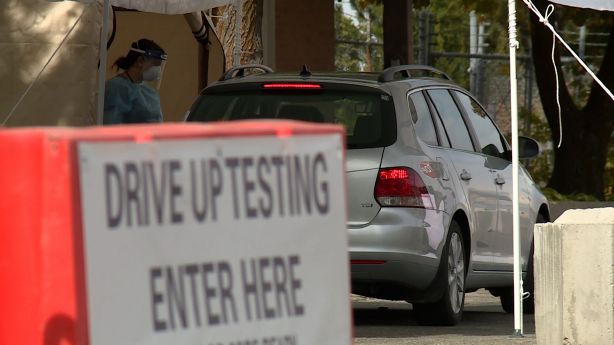 SALT LAKE CITY – In its daily update on Utah coronavirus statistics, the state health department reports another 1,097 confirmed cases of COVID-19 and three deaths from the disease on Sunday .
The update brings Utah to 94,394 confirmed cases and 543 deaths since the pandemic began.
In an email, the department said the three new deaths were:
A Salt Lake County man between the ages of 65 and 84 who is a resident of a long-term care facility
A woman in Salt Lake County between the ages of 65 and 84 was hospitalized at the time of death
A Davis County woman between the ages of 45 and 64 was also hospitalized
The health department reported that 291
Utahans were currently hospitalized due to COVID-19, including 102 in intensive care. The total number at that hospital dropped seven from the high record set on Saturday, but the number at the ICU rose four. The state currently uses nearly 72% of its ICU beds.
Last week, the state averaged 1,206 new cases per day and a positive test percentage of 14.2.
The department reports 7,487 new Utahns were tested on Saturday numbers. Nearly 70,166 Utahans are now estimated to have recovered from COVID-19, meaning 23,685 cases are considered active so far.
Utah Governor Gary Herbert and state health officials will update the public on the state coronavirus situation at their regular news conference this week, which generally takes place on Wednesday or Thursday. In response to the rising number of cases, Herbert announced last week an overhaul of state health guidelines that left most of Utah's population under a masked mandate until October 29; the only counties not currently under command are Beaver, Daggett, Duchesne, Emery, Kane, Piute, Rich and Wayne, designated as having "low" levels of virus transmission under new state regulations .
Procedure:
Test results now include data from PCR tests and antigen tests. Positive COVID-19 results are reported to the health department immediately after confirmation, but negative test results may not be reported within 24 to 72 hours.
The total number of cases reported by the Utah Department of Health per day includes all COVID-19 cases since the outbreak of Utah, including those currently infected, those recovering from the disease, and those who died.
Recovered cases are defined as anyone diagnosed with COVID-19 three or more weeks ago and did not die.
Deaths reported by the state typically occur two to seven days before they are reported, according to the health department. Some deaths can be from a longer back, especially if the person is from Utah but died in another state.
The health department reports both confirmed and possible deaths of COVID-19 cases in each case definition outlined by the State Council and Territorial Epidemiologists. The death toll may change as case investigations are completed.
The data included in this story primarily shows the state of Utah as a whole. For more localized data, visit your local health district website.
More information about Utah health guidelines levels is available at coronavirus.utah.gov/utah-health-guidance-levels.
Information is from the Utah Department of Health and coronavirus.utah.gov/case-count. For more information on how the Department of Health compiles and reports Utah COVID-19 data, visit coronavirus.utah.gov/case-count and scroll down to the "Data Notes" section below of the page.
×
There are many more stories that may interest you
Source link