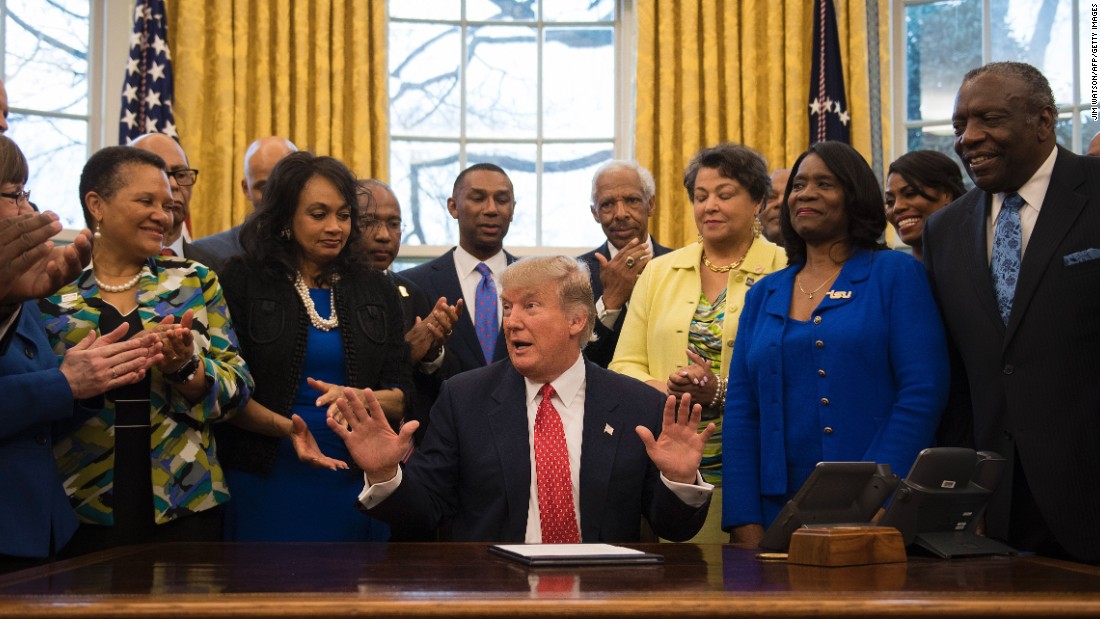 These two voices were calibrated according to who was listening, but, together, they shed a light on the unique breed of dog-whistling that is an integral part of his politics.
"You have made all of America proud of you and the work you have done," he told attendees through what seemed like a verbal stabbing, before he disrupted a list of things that made by his administration to support the HBCUs – with mixed results. 19659003] Although seemingly irrelevant, you could argue that these voices are two sides of the same coin – both, in their own way, in serving Trump's unique white vision of America.
"If Donald Trump has a theory of anything, it is a theory of American citizenship," Jamelle Bouie wrote in conjunction with Trump's outburst against the four-woman crowd. "It's simple. If you are white, whatever the source, you have a legitimate claim to American citizenship and all that comes with it. If you don't, you won't."
The first voice of the President, in short, is straight: The whiteness of the telegraph as Americanness ̵1; and this is how he communicates when his main audience, whether or not it is said, is to "bring him back" it's not.
Trump's other speaking voice, by contrast, is a bit trickier – certainly subtler – because even though he speaks to a nonwhite majority, there is a layer of meaning for white ears.
Returns to Tuesday's meeting. In his speech, Trump achieved two things: For black listeners, he poured sincere praise on the "beloved" role that HBCUs have long played in American life (without significantly mentioning the general horrible state of the HBCU).
For his main white supporters, he came off as … vaguely racist, got the photo op, and maybe even secured some level of cover from the virtuous racism that was destroying the rest. part of his presidency. (No small thing, given that this week Trump had decided to visit Baltimore – a black-city city he called a "disgusting, rat and rodent-infested city" several months ago. past.)
Trump's stand with black voters suggests how good his approach is: A CNN / SSRS poll released Tuesday showed the President's job approval rating among those African-Americans are at 9%.
"America First's agenda is about the sacred bonds of love and loyalty that unite all Americans," Trump said Tuesday.
But in the President's favor, who is really "American"? It depends on who is listening.
Source link