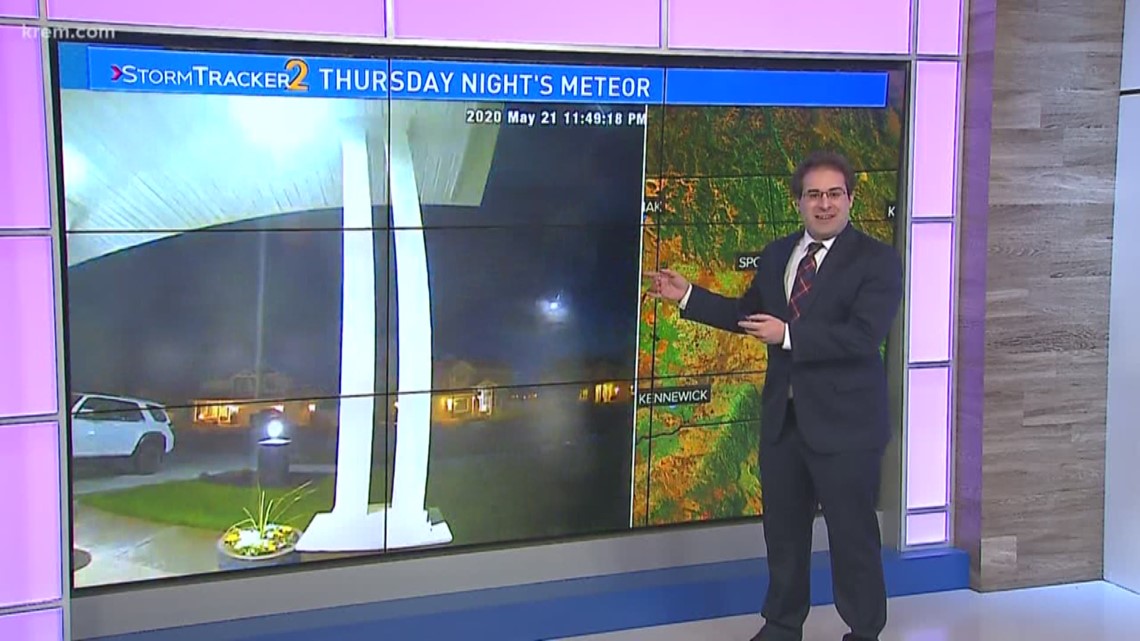 SPOKANE, Wash. – Have you seen it? At exactly 11:49 P.M. Thursday night, a bright meteor lit up the night sky in the Inland Northwest.
The meteor can only be seen for about three or four seconds, but the scene it created is breathtaking. Home security videos shared on our viewers' KREM show a blinding white-green light across the sky, almost as if it had burst into flames, with a faint white tail tracking its path.
The light was so bright that some thought it was lightning at first.
Dozens of reports came to both KREM and the American Meteor Society. AMS reviews the reports and determines the flight path taken by the meteor.
Turns out meteors fly through Kootenai County, including Coeur d̵
7;Alene, Spirit Lake, and Athol. Its proximity made this event incredibly impressive for our area.
Meteors that hit Earth's atmosphere experience excess air pressure as they burn, erase, or in some cases, explode. Some people mentioned they heard a "boom" from the meteor, which would be a case of it exploding in the air. This is why it is like lightning, especially if there is a "thunder" afterwards.
RELATED: Report of a meteor flying over Okanogan County, police said
The color of the meteor explosion is also an indication of the elements and elements that make up the meteor. Because the reported color is green, it means that the meteor is likely to be rich in magnesium.
This is a brilliant and rare event for the Inland Northwest. As always, looking at the sky, you can see the next meteor passing by.
RELATED: The final supermoon of 2020 rose Wednesday night
(function () { var modules; var suppressModules = document.getElementById('tegna_loadmodulesscript').getAttribute('data-suppress-modules') === 'true' ? true : false;
if (suppressModules) { modules = [ 'alert-bar', 'error', 'page', 'grid', 'desktop-header', 'toolbar', 'weather-summary', 'navigation', 'throbber', 'utils', 'tegna-utils', 'fitted-headline', 'tracking', 'progress', 'tealium', 'live-indicator', 'taboola', 'ad' ] } else { modules = [ 'error', 'page', 'grid', 'desktop-header', 'toolbar', 'weather-summary', 'navigation', 'video', 'throbber', 'utils', 'fitted-headline', 'forecast', 'article', 'continuous-scroll', 'sharing', 'gallery', 'radar-gallery', 'forecast', 'article-crosspromo', 'featured-videos', 'chapter-slider', 'pollen', 'olympics-live-stream', 'three-day-outlook', 'current-weather', 'search-results', 'tracking', 'chapter-progress', 'progress', 'countdown-clock', 'longform-explore', 'media-gallery', 'social-sharing', 'weather-alerts', 'weather-interactive-radar', 'closings', 'tealium', 'alert-bar', 'cookie', 'sticky-sharing', 'live-indicator', 'sharethrough', 'taboola', 'elections', 'just-for-you', 'just-for-you-li', 'olympics-tv-listings', 'headline-list-with-abstract', 'text-only-headline-list', 'story-snapshot-with-abstract', 'snapshot', 'story-snapshot', 'special-content-headline-list', 'notfound', 'linked-image', 'article-recirculation', 'linked-image-with-title', 'newsletter-signup', 'linked-image-with-title', 'newsletter-signup-multiple', 'live-videos', 'breaking-news', 'weather-alerts', 'closings', 'media-gallery-alt', 'alert-center-menu', 'trending-list', 'toc', 'featured-radars', 'searchbox', 'hot-races', 'recirculation', 'photo', 'video-youtube', 'newsletter', 'universal-ad' ];
if ('true' === 'true') { modules.push('toasts'); modules.push('notifications'); } } /* var modules = [ 'error', 'desktop-header', 'navigation', 'page', 'grid', 'toolbar', 'video', 'throbber', 'utils', 'tegna-utils', 'continuous-scroll', 'gallery', 'tracking', 'tealium', 'sharethrough', 'datasphere', 'iframe', 'photo', 'video-youtube', 'newsletter-signup', 'newsletter-signup-multiple', 'ad' ]
function inArray(needle, haystack) { var count = haystack.length; for (var i = 0; i < count; i++) { if (haystack[i] === needle) { return true; } } return false; } var moduleElements = document.querySelectorAll('[data-module]'); for (var i = 0; i < moduleElements.length; ++i) { (function () { var thisModuleName = moduleElements[i].getAttribute('data-module'); if (!inArray(thisModuleName, modules)) { modules.push(thisModuleName); } })(); } console.log('===== loading modules: ', modules); */ require.config({ 'baseUrl': "https://news.google.com/", 'deps': modules, 'waitSeconds': 30, 'bundles': { 'modules': modules }, 'paths': { 'jquery': 'scripts/jquery-3.1.1.min', 'jwplayer': 'content/player/jwplayer.js?version=3.22.16', 'modules': 'Views/dist/scripts/modules.min.js?version=3.22.16', 'facebook': 'https://connect.facebook.net/en_US/all', 'twitter': 'https://platform.twitter.com/widgets', 'slick': 'content/libs/slick/slick.min', 'dotdotdot': 'content/libs/dotdotdot/jquery.dotdotdot.min', 'jqueryui': 'Views/lib/jquery-ui/jquery-ui.min', 'comscore': 'content/libs/comscore/comscore.min', 'stickyfill': 'content/libs/stickyfill/stickyfill.min', 'youtube': 'https://www.youtube.com/iframe_api?noext', '@firebase/app': 'https://www.gstatic.com/firebasejs/6.1.1/firebase-app', '@firebase/messaging': 'https://www.gstatic.com/firebasejs/6.1.1/firebase-messaging' }, 'shim': { 'facebook': { 'exports': 'FB' }, 'twitter': { 'exports': 'twttr' }, 'youtube': { 'exports': 'YT' }, 'jwplayer': ['jquery'], 'jqueryui': { 'deps': ['jquery'] }, 'slick': ['jquery'], 'dotdotdot': ['jquery'] } }); })();


Source link