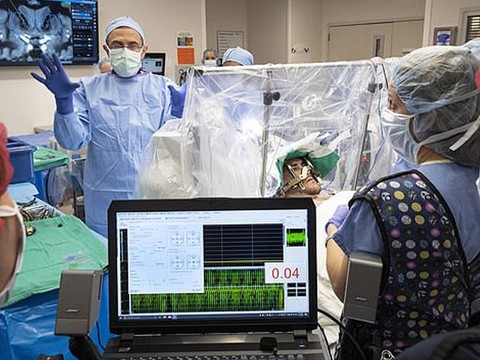 Before Gerod Buckhalter performed tests at the academic hospital of a medical university in West Virginia, he underwent a series of brain x-rays. Then on November 1 during surgery, doctors drilled a small hole in his skull, where they placed an electrode a millimeter long.
The device is placed in the area of ​​the brain responsible, among others. for controlling seductive behavior. The battery that provides the system is implanted in the collarbone area.
Patients' brain activity is monitored remotely by a team of physicians, psychologists and addiction specialists to assess whether drug anxiety levels decrease. Close monitoring is carried out for two years.
According to the BBC, electronic systems called the "pacemaker for the brain" would help him and others addicted to the so-called. "difficult" medicine to control the craving for drugs.
The first volunteer ̵
1; 33-year-old Gerod Buckhalter – has struggled with opiate addiction for more than a decade, passing several times with addictions. In addition, scientists have three more willing to try.
Pacemaker for the brain
The research project was led by dr Ali Rezai . In a conversation with the BBC, the scientist admitted that "the device should act like a pacemaker for the brain". It uses the technique of deep brain stimulation, approved by the US Food and Drug Administration in the treatment of, among others Parkinson's disease, epilepsy, and obsessive compulsive disorder. Approx. 180,000 people in the world have similar brain implants, but they have been used for the first time in the treatment of drug addiction. under the guidance of an ethics committee, regulators, and many other regulators. We treat addicts under the age of 50, "says Dr. Rezai. Interestingly, in the US there may be up to 2.5 million opiate addicts!
Source: BBC, PAP
The brother President smuggles drugs, threatens life imprisonment
They drug him for a few months. Appeal of a desperate mother
Source link