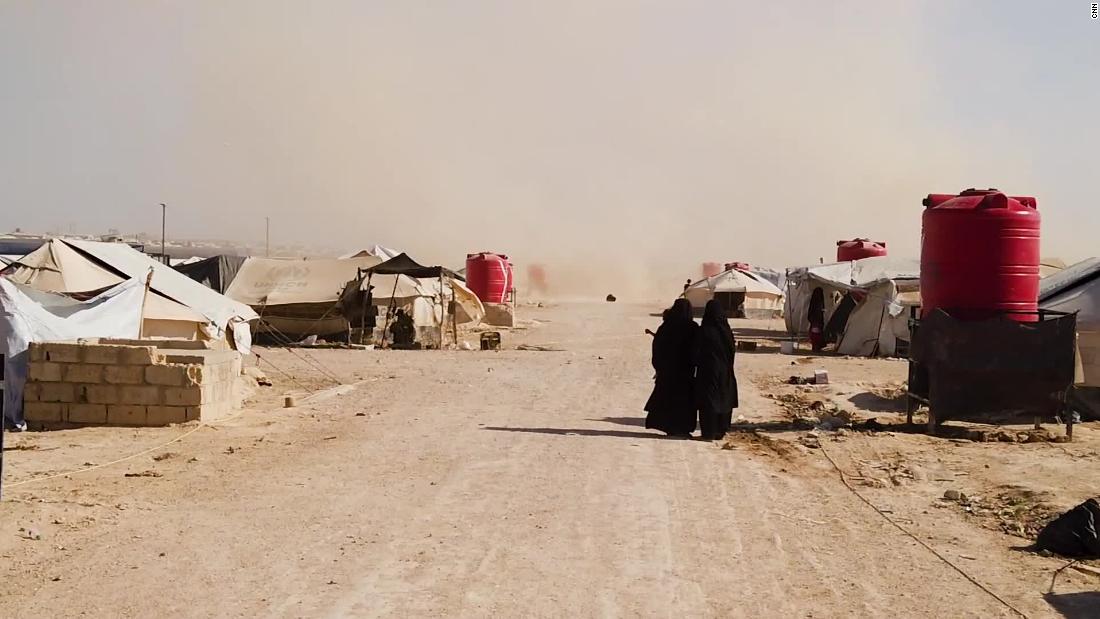 A CNN team approaches an Iraqi women's group. Our request to talk to them speaks of debate. "Brothers, don't say anything," one woman warned the rest of the group.
"No, brother, we have the right to speak," another retorts.
They talk to one another, pouring out a litany of grievances. Kids start stealing. They have no money. Conditions are hurting. They wanted to go home.
About 15% of its residents are foreigners, but the international community has for some months abandoned the camp. And as living conditions deteriorate, nostalgia for ISIS policy begins to cook.
The camp's population has fallen from 9,000 to 70,000 after ISIS made its last stand in the Syrian town of Baghouz in March. The weeks of the war have led to a large influx of displaced people, most of them families of ISIS fighters.
Around 50,000 of those living in the camp are children, and most of them are women. They were the people who were held in the swift recession of the so-called caliphate.
And while some of the mothers have tried hard to find a way out of the camp, many have tried to revive their fundamentalist utopia.
"We are beginning to notice that new arrivals are very well organized," said Mahmoud Karo, who manages the camps in the northeast of the Jazira district of Syria. "They organize their own police morally. They are organized."
Draconian laws
Under a cloak of secrecy, radical women living continued to enforce the draconian laws of the so-called caliphate.
The police on women's allegiance to ISIS, punishes those suspected of wavering in their support for the extremist group.
Adherence to the fundamentalist dress code is strictly administered with sometimes deadly penalties identified by those who fall in line. 19659016] EXCLUSIVE: America's leader & # 39; Syria's allies warn of ISIS resurgence and demand more US support "class =" media__image "src =" http://cdn.cnn.com/cnnnext/dam/assets/190907101320-mazloum-kobani -abdi-190824-large-169.jpg "/>