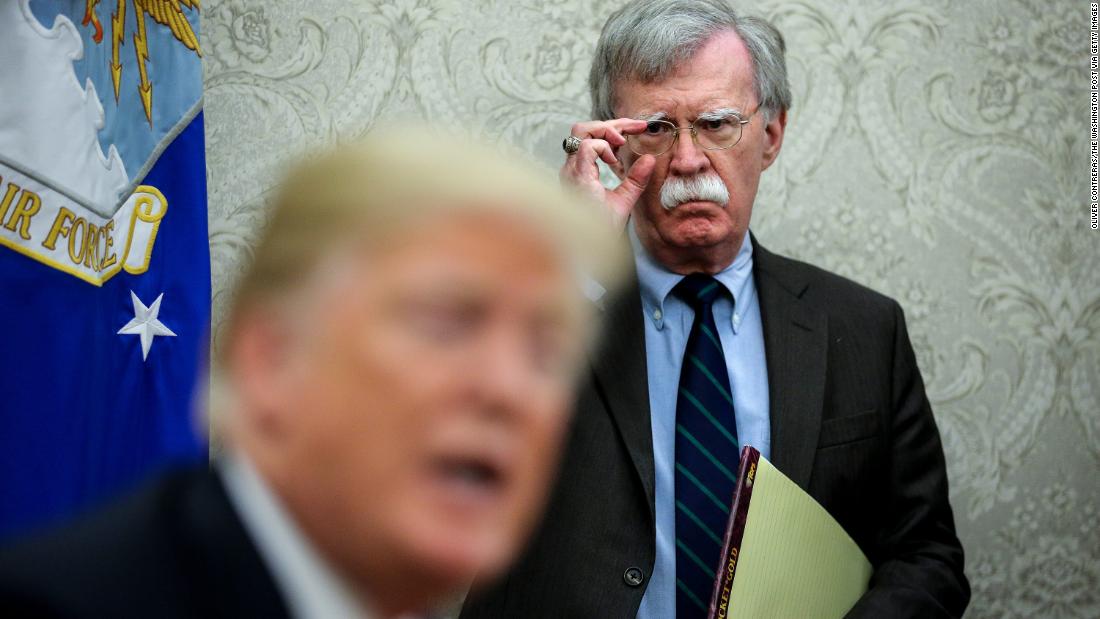 Not this week, but in November 2002, when he was a state minister of state, was not a national security advisor. And not about Iran, or Venezuela, or North Korea; but about Iraq.
Seventeen and a half years, and Trump's administration still deal with the downfall of George W. Bush to remove Saddam Hussein. And still continue to deal with them, and most of the other ongoing crisis, with the familiar cast of people. The main difference: President Donald Trump did not make his position "clearly clear" and instead abandoned the foreign policy that was loosely broken by a small career of Republican hawks.
It was a startling week, where Trump's administration seemed to want to hurry through what Bush's government took about two years to do in Iraq. Intelligence was leaked, and then downplayed by a senior, allied UK official, suggesting Iran was sending missiles in an ominous way. The New York Times has cut the word of plans to send 1
20,000 troops in the region, which Trump denies as "fake news" and confirmed, in essence, by saying that if they send troops, they will send more . [19659002] Come on Thursday, and according to people familiar with this matter, Trump failed in his violent adviser of violent warfare in Iran. Then Wall Street Journal officials believe that Iran actually works defensively with shipping missiles, as it itself corresponds to the fears of attacking America.
Recent intelligence has shown that some Iranian boats claim US carrying missiles returned to the port and some missiles have been unloaded, according to two US officials familiar with recent intelligence. Officials said it was unclear if the missiles had been placed in the storage to keep them hidden from the US or to provide a de-escalation signal.
We're completely round though, by Washington's attention span so violently short today, it's possible to dispute intelligence, debate wars plan, intimidate a full-scale conflict, and then back off the whole idea, in just one working week.
Gracious analysts may note a corollary of Nixon's so-called "Madman theory", where the 1969-1974 President of the United States wants his North Vietnamese citizens to think he is unpredictable, "a little crazy" though, and afraid of his hatred. If he seems to be alone, the Nixon's logic goes, his opponents will talk about a disproportionate, unreasonable response, without giving Nixon.
As to prove this theory, Trump asked the weekend: "The Fake News Media hurts our country through the fraudulent and completely inaccurate range of Iran. It is scattershot, not well-sourced (composed), and dangerous. At least Iran does not know what to think, that at this point may be a great thing! "
Consultants in the agenda
But these are different times, and Trump does not have Vietnam to be clean. Rather, what slowly emerges from Trump's inner circle is often a picture of a President whose counselors see his mood change as an opportunity to try to pursue their own agenda, and he hopes to fall along its. (Note Michael Flynn who put Iran "officially on notice," Jim Mattis's support for a short and focused bombing runs against the Syrian regime, and Rex Tillerson's short-term belief that the US should talk to the North Korea "without pre-condition"). The characters go away, and it remains unclear what the purpose of the stable policy, or is. Not only in the Middle East, but also in South America.
"All the options are on the table," said John Bolton. It was really in 2003 about Iran, but it has become a common catchphrase for Venezuela this year. Bolton and Pompeo led to the conquest here, replicating the time of Bush's neo-cons judgment that hoped the world would bend in the order they wanted to impose: that they had to bid something and then just watch it. It did not work – they had to invade Iraq and tear it over to find Saddam – and have not yet worked in Caracas.
Their bidding to remove President Nicolas Maduro – is restrained and vulnerable by his own economic misinformation and kleptocracy – relying on the declaration of another human president, having their allies following with their leads, and hoping to find Maduro on a plane in Cuba.
This may be the first of the Trump appeal – both international as an easy win, and a vote in Florida – but it fails to work, over and over again. And after Pompeo's more subtle suggestions that the US could attack, the White House began to indicate that Trump was again unhappy with the march towards the war in Venezuela.
Again, the character's title is familiar, with Elliott Abrams, who helped lead Iraq as Bush's Middle East adviser to NSC, leading the Trump's efforts. Back in 2002, a senior administration officer in the New York Times, who, when it came to Abrams "any controversy was past in the past." At that time, they were not referring to his role in the Middle East of Bush, but Abrams relied on Iran-Contra affair.
Venezuela is third in Abrams. Back in 2003, when officials ate a shiny New Yorker profile to him, someone who suggested people from the academic background of Abrams had the possibility to see things in black and white, before joining the government and realize that it is more complex. In April, Abrams said to the senators, "Maduro's back is facing the wall. Around him everywhere, he has people who despise him – People just waiting at the right moment to show him the door. "After a failed bid to get the highest brass of the military to turn the opposition, he received tired on April 30," it seems like they have not looked forward yet. "
Threat but no follow-through
Again and again, the goal is far from the road but the rhetoric is turbocharged enough to look forward to reaching it. There is only no follow-through presidential. In Iran, Venezuela, even North Korea, where personal entreaties are leading anywhere in the world today, a sad activity and threats are leading precisely where it is good, if not nowhere else.
The same group of neocons could have felt they had a glaring opportunity to realize the goals they had held over the decades, by imposing an external policy on a president who preferred nothing. They wonder, and for a week like this one you can really feel like it was again 2002, and history is repeatedly always more tragic than the sky. But then the real nature of the Trump presidency appears – implicit in isolationism, at the conclusion of wars about places whose base it does not understand or cares.
There is an eternal fruit however, an empty bombast. It builds on an image – hatched to Obama's time when Iraq and Afghanistan's wars forever made the hyperpower hanker for a break – a tired and bankruptcy US who preferred to let others take a seat in front.
Trump wants to act "suddenly," but it does not follow. The danger for the present, tired structure in the world is that the United States opponents see it scary – perhaps right – as a long-term weakness, and act to fill that vacuum, skeptics of US rhetoric with time and again proven hollow.
CNN & # 39; s Barbara Starr contributed to this report.
Source link